Cadre Name: Clinical Officers
Healthcare Provider Density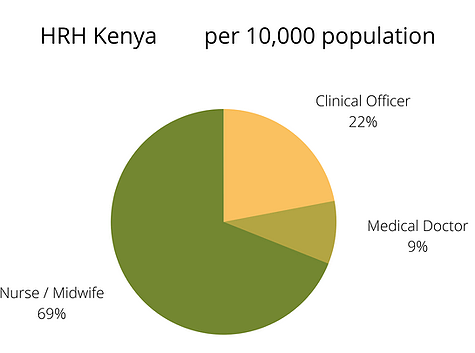 Clinical Officers Statistics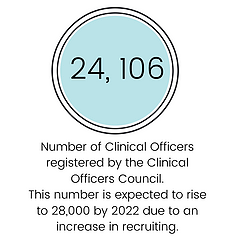 Primary Care / Specialty Care Distribution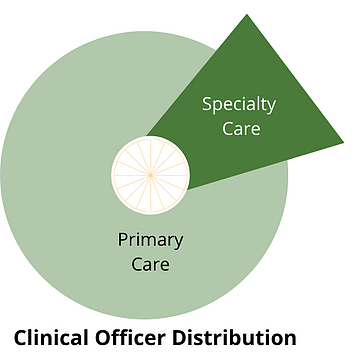 Scope of Practice and Areas of Specialization
Obtain medical history and conduct physical examinations
Diagnose and manage acute and chronic illnesses and disease
Provide care for patients in an emergency care setting
Prescribe physical therapy and other rehabilitation managements
Provide information to include all aspects of sexual and reproductive health
Ensure infection prevention and control while carrying out clinical medicine procedure
Provide reproductive health services and family planning services
Provide well-child services, including screening and immunization
Provide clinical specialist services at all levels of health care delivery
Assist and perform operations and procedures within the scope of their practice
Counsel and provide health education to communities
Manage and assure quality of essential medicines and medical supplies
Alcohol & drug/substance abuse management
Health promotion
15. Advocacy on road safety/Injury prevention
16. Education addressing negative cultural and lifestyle practices
17. Capacity building
18. Hygiene promotion
19. Promotion of safe food handling
20. Advocate for proper waste management
21. Health education on malaria prevention and control
22. Promotion of occupational safety wellness programs
23. Disaster management
24. Youth friendly services
25. School health promotion
26. Safe water sanitation and hygiene.
27. Disease surveillance
28. Community diagnosis
Age Distribution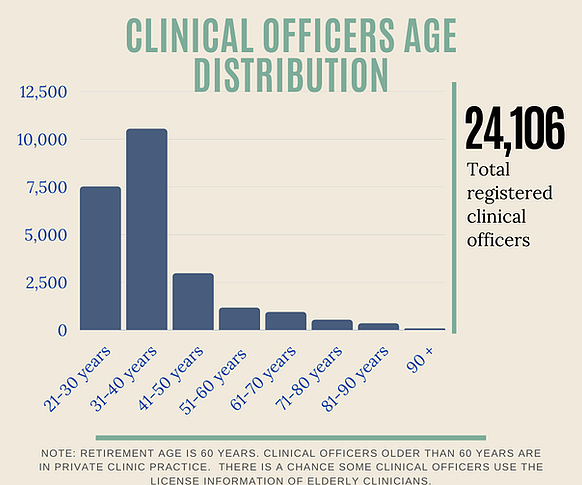 Gender Distribution
Country Profile

Training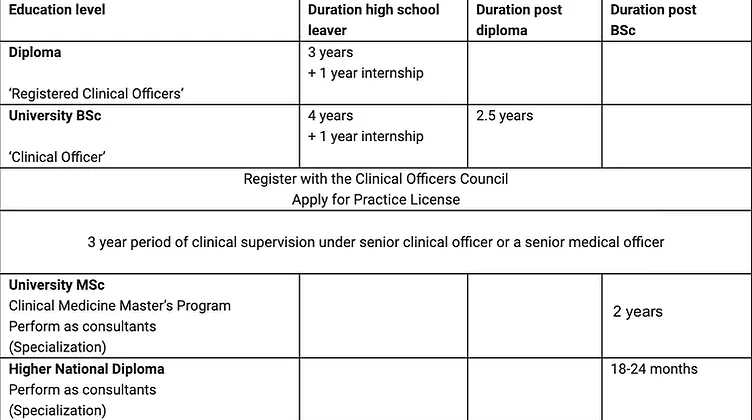 Brief history of Clinical Officer training in Kenya
During colonial times:
The training of clinical officers in Kenya started in 1927 at then King George Hospital, now Kenyatta Hospital. It was a hands-on basic that took a duration of 2 years. They graduated as Certified Clinical Officer (CCO).This continued until around 1952 during the state of emergency

Emergency need to train Clinical Officers:
Between 1952 and 1964, many British doctors left the country for fear of reprisal by the Kenyan natives. These was an acute shortage of health care workers/ Because of this there was accelerated training of Clinical Officers to fill in the gap. These Clinical Officers qualified as Clinical Assistants (CA). The training started formally and a syllabus was drawn. In 1962 there was already a movement by the few Clinical Officers to agitate for recognition and unsupervised practice by Clinical Officers. The training was temporarily stopped by the government through the pressure of the few doctors that were there. It was said that nobody else should use a stethoscope other than a doctor. This caused a crisis in the health sector and the program was restarted in 1967. The training continued until 1969 when the role of Clinical Officers in service provision was fully recognized. A curriculum was drawn and the duration was extended to three years to enable them broaden the scope and masters the skills in order to manage health institutions. They qualified as Registered Clinical Officers in 1971(RCO)

Training of Clinical Officer Specialists ( higher national diploma)-- 17 programs to date:
After appreciating the good work done by Clinical Officers, the Ministry of Health found it fit to train Clinical Officers at a higher national diploma (Clinical Officer Specialists). There was a big problem of tuberculosis and leprosy. So the first HND was Clinical Officer TB and Leprosy (COTULEP), many others were started later including: dermato-veneriology, chest medicine, paediatrics, family medicine, ENT, anaesthesia, reproductive health, mental health, oncology, orthopaedics, nephrology, emergency and critical care, cardiopulmonary perfusion, audiology, ophthalmology, epidemiology, and medical education. Due to the need to equip Clinical Officers with more competencies to handle primary health care competently, a four year program was started in 2004. Students graduate with a degree in clinical medicine.

Journey to accreditation and self-regulation (1981-1989)
The Kenya Clinical Officers Association was formed in 1962 and registered in 1981. The objective was to bring all Clinical Officers together, forge for recognition through an act of Parliament, fight for the welfare of Clinical Officers, and have a scheme of service. The Clinical Officers were limited in the types and range of drugs to prescribe. This was very frustrating as they were to wait for the few doctors available to countersign the prescriptions before giving to the patient. The association tried in all ways but the road was blocked. The Clinical Officers raised funds to get a lawyer to represent in court to have an act of Parliament.

One day as the then president was on his way in a county side, he developed severe malaria. The only health facility nearby was a health centre run by a certified Clinical Officer. He was managed so well and after sometime he summoned the "doctor" who had treated him to statehouse. It turned out that he was a Clinical Officer and not a doctor. He was immediately appointed the Chief Clinical Officer in Kenya. The court ruled in favor of Clinical Officers bringing to fore Cap 260 laws of Kenya. The Clinical Officer's Council was formed in 1988 and started operating in 1989. The council was charged with training registration and licensing of Clinical Officers.  The act has since been repealed to Clinical Officers Act no 20 of 2017. The new act gives more power to Clinical Officers. There is no limitation in drug prescription, ordering and interpreting lab results, and it allows Clinical Officers to perform invasive procedures (surgeries).

Currently there are 66 training institutions for Clinical Officers including Government, faith-based, private, and 12 universities. So far 2656 Clinical Officers with higher national diploma have been trained, and 715 degree Clinical Officers have also been trained. There are 25,000 Clinical Officers registered by the COC today.
Country Healthcare System Structure